Yes, we have found a manufacturing issue regarding the rear guard on a small number of models DWS779, DWS780, and DHS790. The only units affected are within the date range of 2019 04 through 2022 03.
To resolve this issue please click here to get your repair kit order placed for free.
Please verify the date code which is located on the label on top of the motor. For the DHS790 it is stamped on the motor or behind the battery area as shown in the picture below:

DEWALT Model DWS779, DWS780, and DHS790 Miter Saws
Plastic rear guard assembly can break/shatter when struck, exposing the saw blade and posing a laceration hazard.
The following miter saw models are affected:
DEWALT Model DWS779, DWS780, and DHS790 (designated DHS790AB or DHS790AT2 on the carton)
Only date codes 2019 04 through 2022 04 are affected.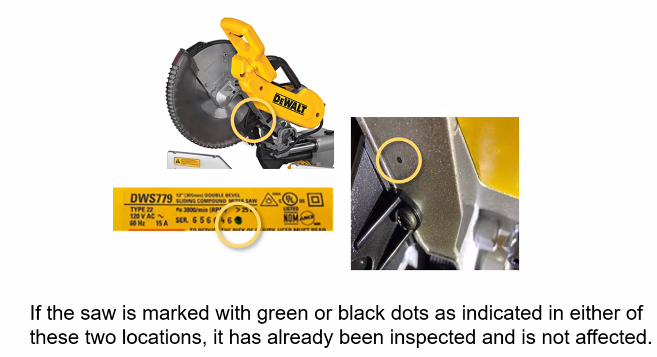 The date code (20XX YY-ZZ) information is as follows: 20XX = year, YY = week, ZZ = plant code (either CJ or 49)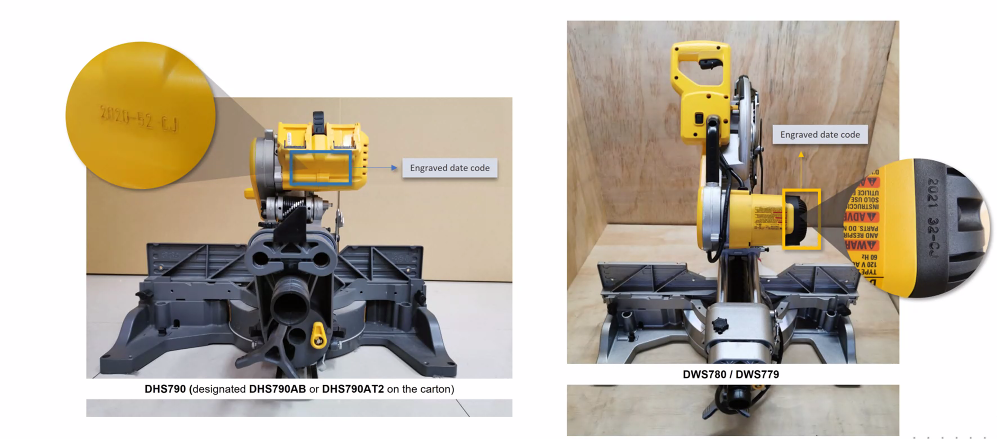 If your saw does not have a date code or you cannot locate it, please contact us.
If your saw is affected, STOP USING IT IMMEDIATELY and contact DEWALT to obtain a free repair kit using any of these options:
Scan this QR code:

Call toll-free 1-800-990-6421 between 8 m. and 6 p.m., Eastern Time, M-F
Recall done in cooperation with U.S. Consumer Product Safety Commission - Post Until December 9, 2022